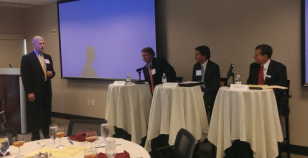 Moderator (standing) and Panel
In August, RMA Atlanta hosted a luncheon entitled "The Entrepreneurial Community Bank," where our panel of experts discussed community banking.
The panel was moderated by Mr. James Schulz, Merrit Watson LLP, and included Mr. Charlie Crawford, President, CEO & Chairman of
Private Bank of Buckhead
; Mr. Brad Serff, CEO of
Providence Bank
; and Mr. Neil Stevens, COO of
KeyWorth Bank
.

Each panel member shared their different perspectives to the following questions:
What did their banks look like when they opened? Was capital an issue?
What positioned their banks for success?
How did their banks weather the crisis? How did they find creative solutions for the new banking environment?
What new sources of income have they found?
How do their balance sheets look today and how do they expect them to look going forward?
What are their biggest challenges?
Thanks to the panel members for their insight.
Click here
for a recent AJC article on Charlie Crawford.