May's meeting focused on current regulatory hot button issues, and featured Mr. W. Bernard (Bernie) Mason, who is a regulatory relations liaison with RMA National. Mr. Mason discussed the following items:
Regulatory perspective on current banking risks - an overview of current risks and examiner "hot button" issues (this included cyber security, credit risk and underwriting, as well as collateral valuation issues)
Dodd-Frank implementation - status of rule making and how the statute and regulations impact banks of varying size ranges
Third party/vendor risk management - new regulatory guidance and emerging concerns
To learn more,
click here
.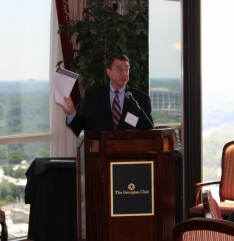 Mason is The Risk Management Association's regulatory relations liaison, serving as RMA's primary link to federal regulatory and legislative activities in Washington. He joined RMA in February 2009 following a 38-year career as a federal banking regulator.

Mason most recently served as the Office of Thrift Supervision's associate director and senior advisor, where he was responsible for agency operational risk, business process, and regional oversight issues. He previously served for 15 years as FDIC Board Member deputy, providing advice and counsel to the OTS director on all matters requiring formal action by the FDIC Board of Directors. He also served as the OTS liaison to both the Federal Financial Institutions Examination Council and a standing subcommittee of the President's Working Group on Financial Markets. Mason began his career as an FDIC field examiner and served in various examination and supervision capacities, including OTS deputy regional director, prior to joining OTS senior staff in Washington.

Mason has an undergraduate degree in business administration from Virginia Commonwealth University and an MBA from George Mason University.