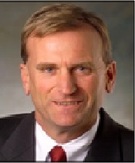 RMA Atlanta hosted Mr. Donald D. Hutson Jr., a National Industry Partner with BKD's National Financial Services Group, who reviewed the new Basel III rules and address its impact on the industry.

Topics discussed included:

- Overview of the Basel III rules and regulations

- Impact on the banking industry including specific exemptions and revisions for community banks

- Strategies for addressing the impact of Basel III

- Long term planning ideas and what banks should be doing today

Bio

Don serves as chair of BKD's Financial Services Committee and oversees a team of more than 200 advisors who serve more than 1,200 financial institutions. He also serves as chair of Praxity's Financial Services Working Group. Praxity, AISBL provides the gateway to tax, assurance and consulting services delivered by alliance firms committed to the highest standards required in international business.

With more than 30 years of industry experience, he provides consulting in the areas of regulatory issues, management assessments, profit planning, long-range strategic planning, regulatory report preparation and acquisitions, as well as managing audits and directors' examinations.

Currently based in St. Louis, he is active in numerous industry associations that include the American Bankers Association, Financial Managers Society, Independent Community Bankers Association, Community Bankers Association of Illinois, Missouri Bankers Association and Missouri Independent Bankers Association. He is a member of the Missouri Bankers Association Executive Management, Convention Planning and Associate Member committees. Don is a frequent guest speaker for these and other financial industry associations and a contributing editor for BKD's financial services e-newsletters.

He is a member of the American Institute of CPAs and Missouri Society of Certified Public Accountants and also supports numerous community organizations.

Don is a 1979 graduate of Truman State University, Kirksville, Missouri, with a B.S. degree in accounting.