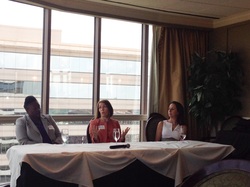 Thank you to our May luncheon sponsor, GGG Partners, LLC.
For more information regarding GGG Partners, LLC, please visit their website
here
.
May's luncheon was entitled
Training and Retraining: Views from the Field
. The event featured a panel consisting of Susan (Sue) Miller with SunTrust, Michelle (Shelly) Kacergis with Bank of America, Christine Ferrise with Regions, and Dawnita McCain with PNC.
The panel focused on:
The decline in formal bank training programs, until recently
Current training programs
Continuing Professional Development
What We, as an Industry, can do better to facilitate training